About Hambly Enterprises
Welcome to Hambly Enterprises Ltd., a diversified company located in Charlottetown, Prince Edward Island on the east coast of Canada, made up of three divisions: PEI Home & RV - Housing & RV Divisions and Hambly's BrandSource Home Furnishings
In 1963 Hambly Enterprises Ltd. first opened its doors to Island customers. Bill Hambly Sr. founded Hambly Enterprises Ltd. with sons Wayne and Doug. Together they built Hambly Enterprises Ltd. to include a diversified product offering of mini homes, modular homes, recreational vehicles, home furnishings and appliances, modest to deluxe apartment rental accommodations and four mini home, modular home land lease communities. Since that time, Hambly Enterprises Ltd. has become an umbrella company for a number of different business divisions that cater to the lifestyle needs of Islanders.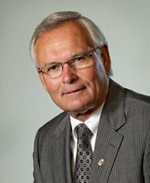 As founding partner, Mr. H. Wayne Hambly, President and CEO, is responsible for the management of the company, the formulation of Hamby Enterprises Ltd. business development strategies, and emerging business opportunities.
Drawing on 50 years of sales, management and business leadership experience, Wayne has led the company strategically since its inception in 1963. He is a strong supporter of education and maintains a well-trained, talented and loyal staff. Customer service is paramount at Hambly Enterprises Ltd. and developing and maintaining those relationships is a cornerstone of Wayne's business mantra. He continues to ensure the company's success through diversification of its business, a broadening customer base and a clear focus on customer service.
Wayne sits on the Board of Directors of several industry-related groups. He is past President of the Atlantic Recreation Vehicle Dealer Association, Past President of the Recreation Vehicle Dealers Association of Canada, Chairman of Mega Group Inc., as well as a member of the Manufactured Housing Association of Atlantic Canada.
Wayne is a strong advocate of arts and culture, as well as community health and development, both at home on Prince Edward Island and abroad. He is currently Chairman of the Board of the Confederation Centre of the Arts and past District Governor of Rotary International District 7820. In addition, he has been involved in various capacities in several community groups including the Queen Elizabeth Hospital Board of Directors, Provincial Chair United Way PEI, Vice-Chair Holland College Foundation, and Co-Chair Heart and Stroke Provincial Campaign.